Puglie Palooza began in 2020 as, once again, another silly idea that came to mind.
Since physical conventions were shut down due to the pandemic, a number of online conventions popped up, and I found myself thinking,
"What if there was a whole convention dedicated to Puglie?"
Figuring that this is all make-believe, and there's no need to worry about booking physical venues, getting chairs and tables, or needing to care about fire safety LOL, I went ahead and designed the things I most cared about in conventions - the design, exclusive items, events, and an artist alley.
It was a totally unexpected massive success, not only in the overwhelming support I received especially during such a tough year, but also in connecting me with all the sweetest pootie pals <3
Here's skimmed rundown in to some aspects of Puglie Palooza 2021's planning, this year with help from Zen and Beth!
Hopefully, if you're an artist yourself, you can get some insight in to what it takes to plan something like this, perhaps even improve on what I did! If you're a fan, I hope you get to enjoy all the work that went behind the event :] !
So it begins!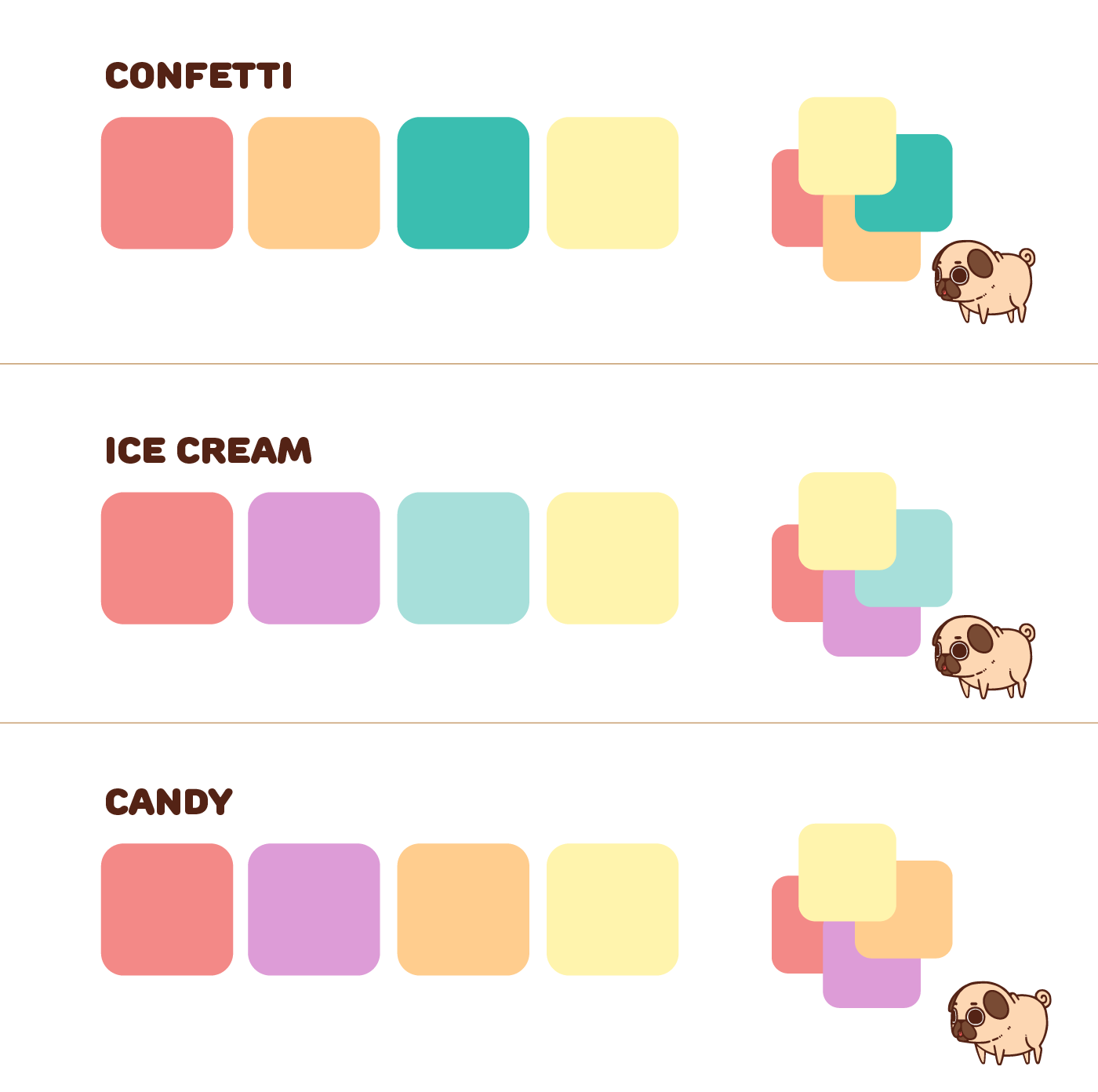 For me, it all starts with figuring out the look and feel of the event. This helps set the mood, and also makes future templates and assets good to go right off the bat! I tasked Zen to show me some color palettes to start off with, the Doughnut Pink being the main staple across the board.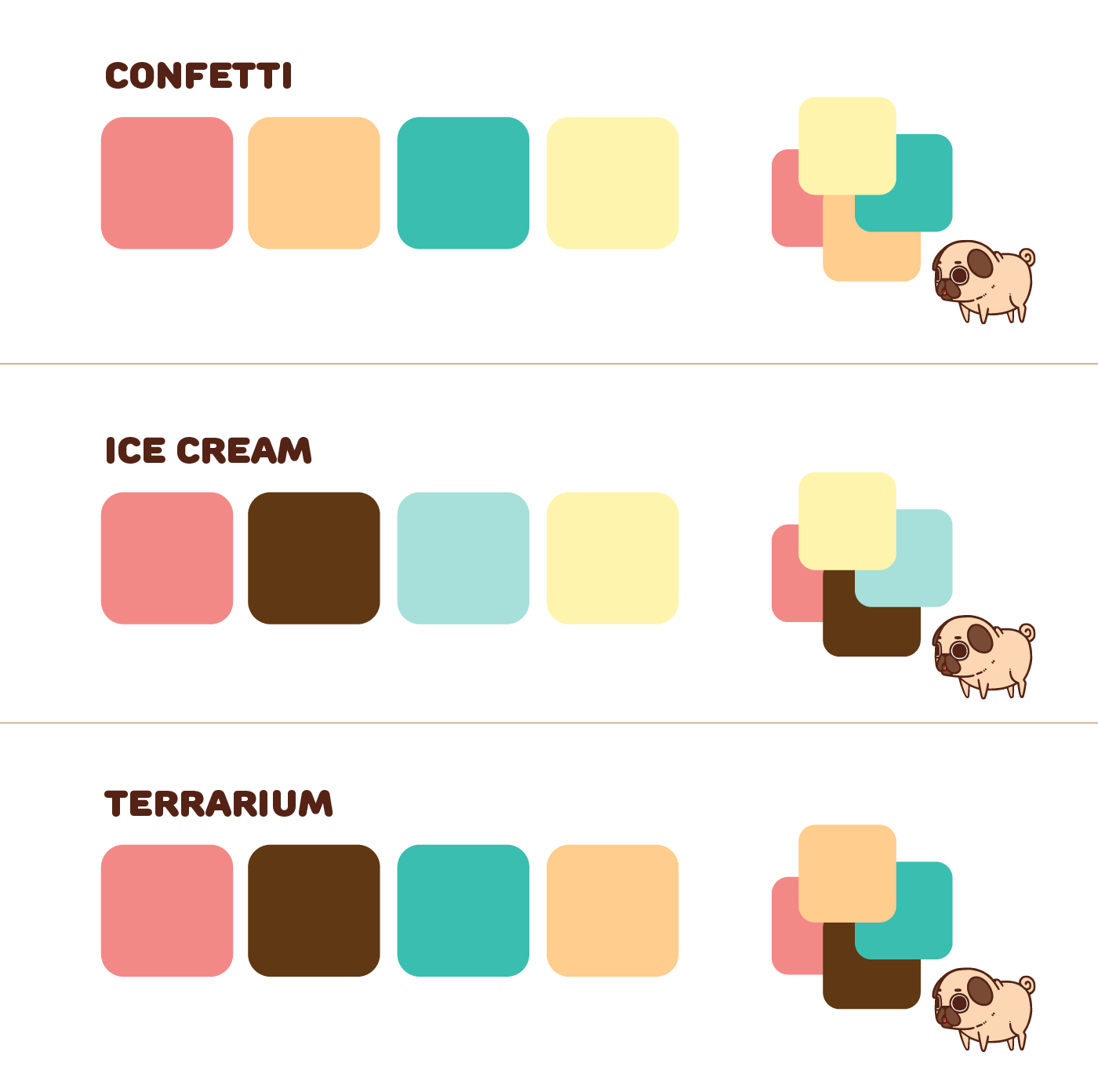 After liking "Confetti" the most, I asked to see some other ideas, perhaps putting Puglie's Dark Brown color in to consideration as that would be the color of the text, which will have to match all the other assets. While "Terrarium" was a beautiful, strong color palette, I opted to go for "Ice Cream" for the sake of a softer feel, and for the dark brown text to stand out easier against those colors.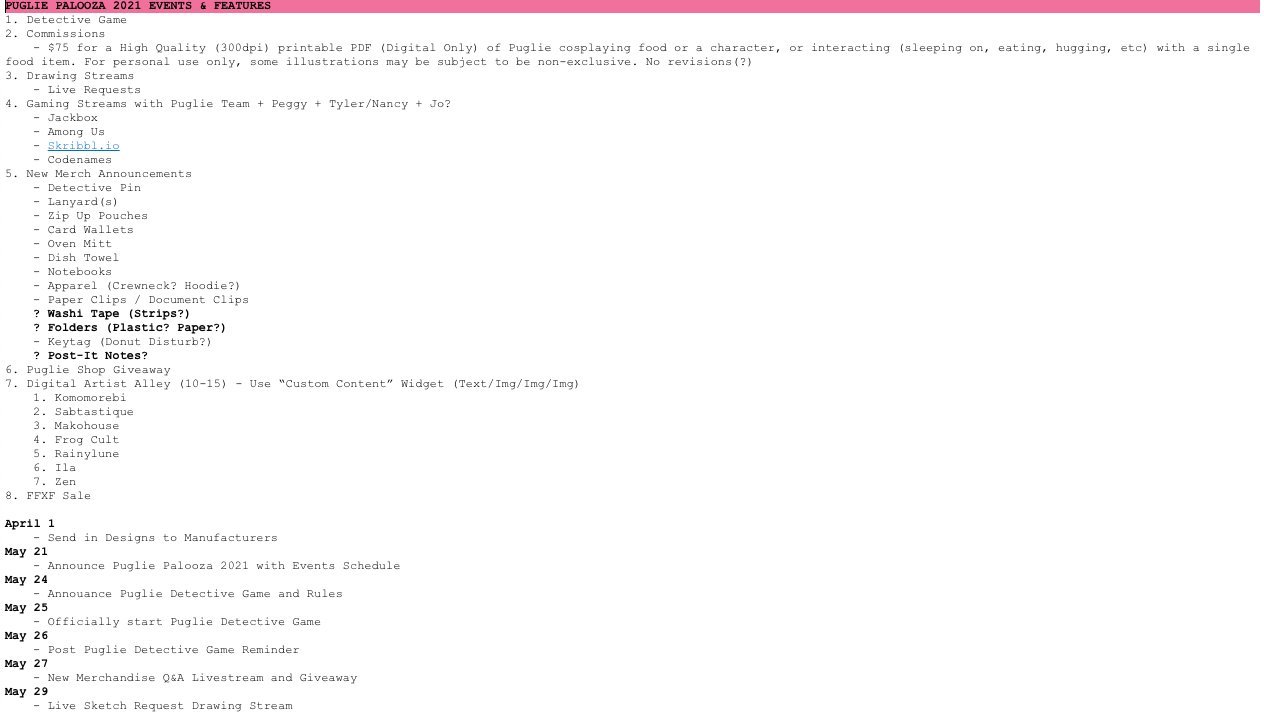 While Zen was working on creating some assets and logos based on the color palette, I began planning the Detective Game, and also the entire convention in general - events, new merchandise, artist alley, and social media scheduling. All this was just the first iterations, more like a hopeful goal that would change to be more realistic as time went on.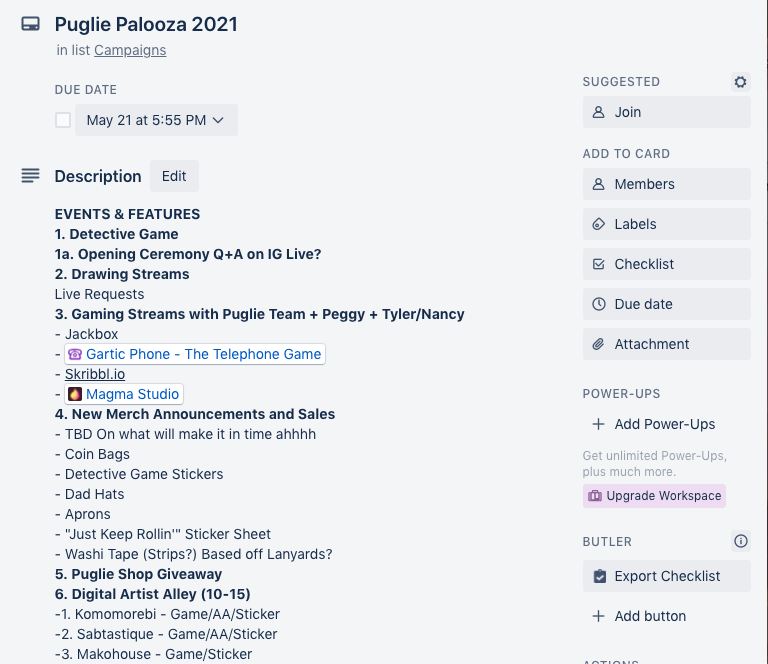 With initial plans figured out, I cleaned it up in Trello, my go-to organization tool for the team and I! At this stage, it's still largely an idea dump, but at least if my team wanted to clue in with what was in the works, it was there. This stage helps me figure out my general goals, though I knew for 2021, the biggest mission I wanted to accomplish was the Detective Game.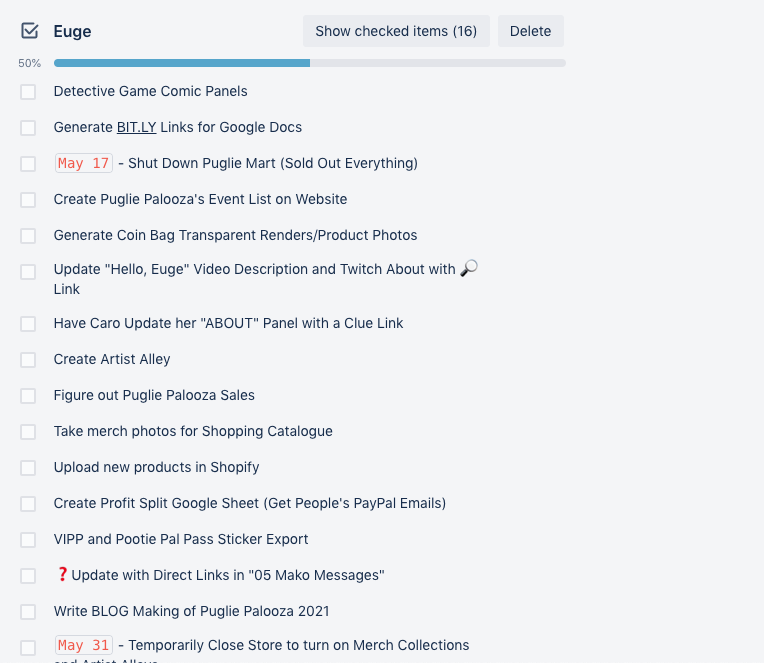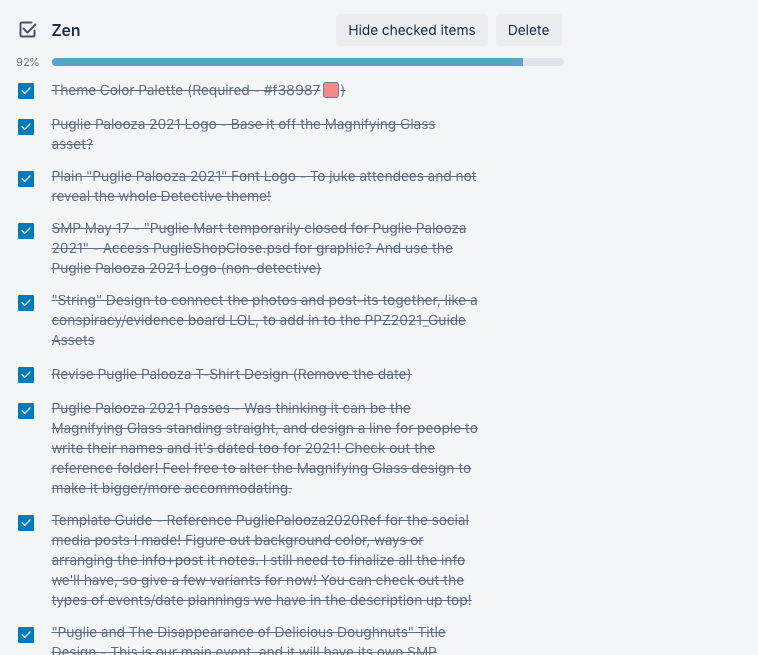 As you can see here, I began creating to-do lists for Zen and I. I'll write down as much as I can think of right off the bat, but this list grows as we go through the process! Just another reminder that you don't need to have all the answers right off the bat to start something, but you need to be ready and open to pivot and adapt!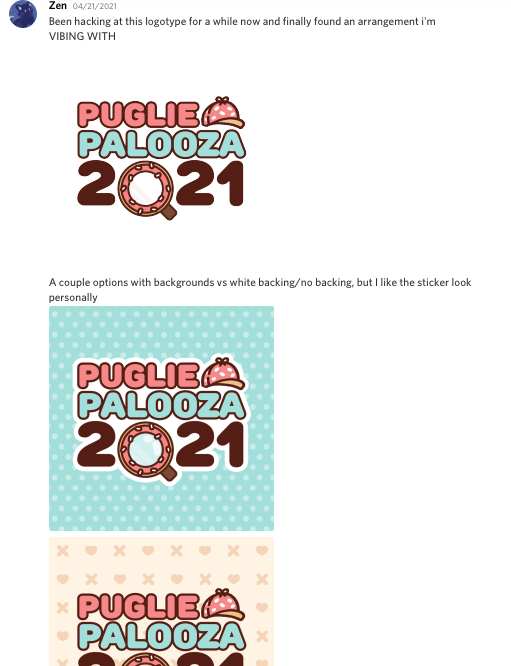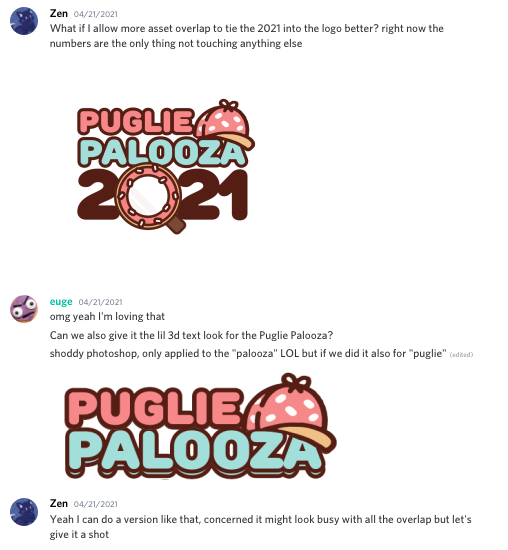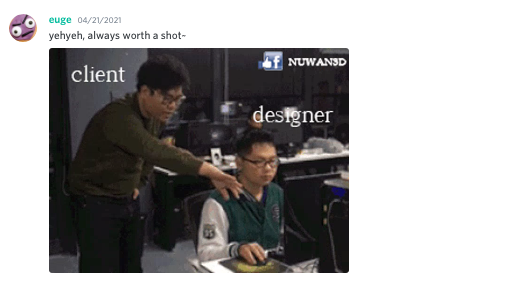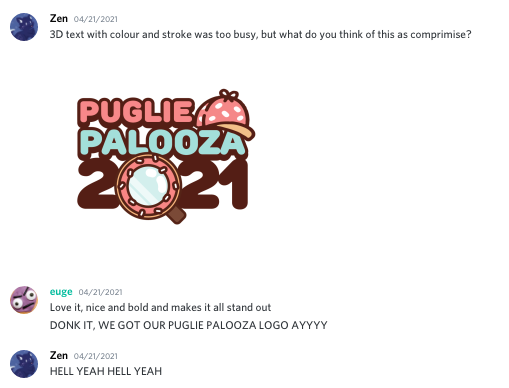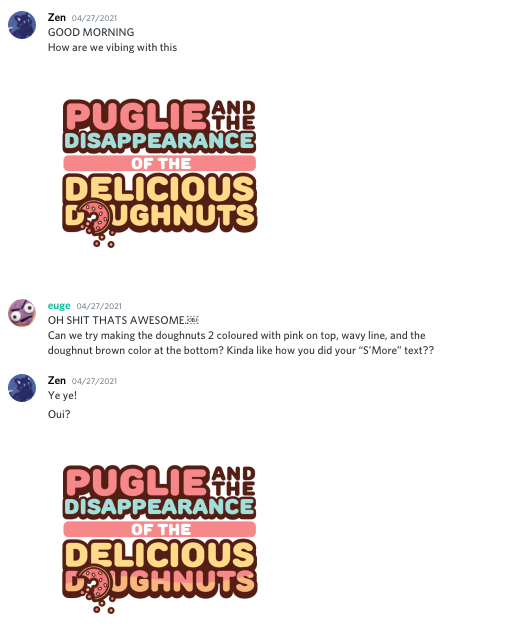 Zen's forte is type design, so of course, as a team lead, you play to your team member's strength's! Luckily, and unfortunately, for Zen LOL I also dabble in graphic design and, with Puglie being my babbie, I'm aware I can get a bit anal with details - hence the jab at myself being the client and them being the designer.

But with Zen being patient and receptive to my feedback and what I want to achieve, or at the very least, what I don't like, we figured out the logotype I really loved, and we were able to carry on with the rest of branding! See, figuring out that color palette early on really made this easier haha!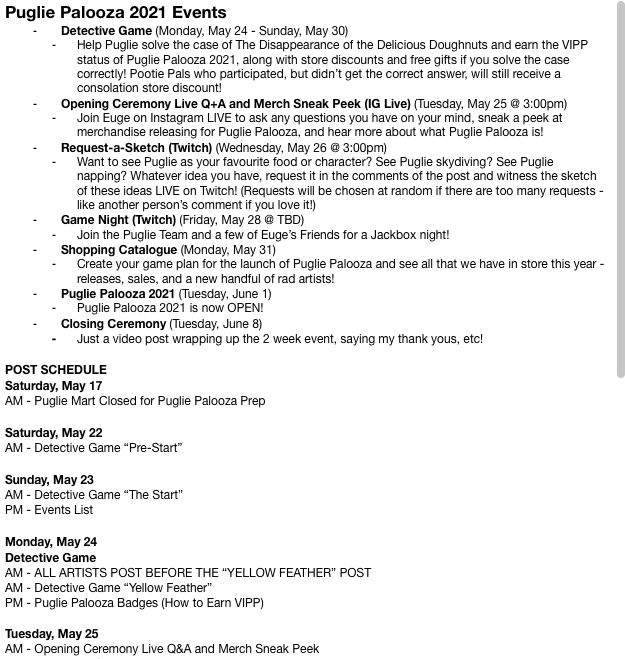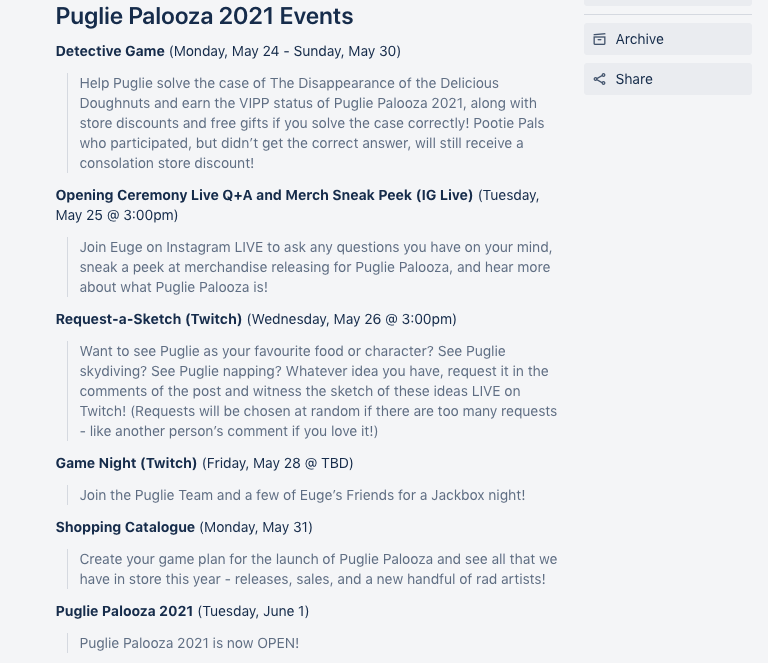 At this stage, while creating assets, look and feel, and frantically drawing the Detective Game, I knew I was behind on solidifying all the events to not only make announcements for, but to give Beth direction on what to do. So I sat down one evening and went over the events in greater detail, and what we realistically had time for during Puglie Palooza.
Afterwards, I updated the Trello card with this info.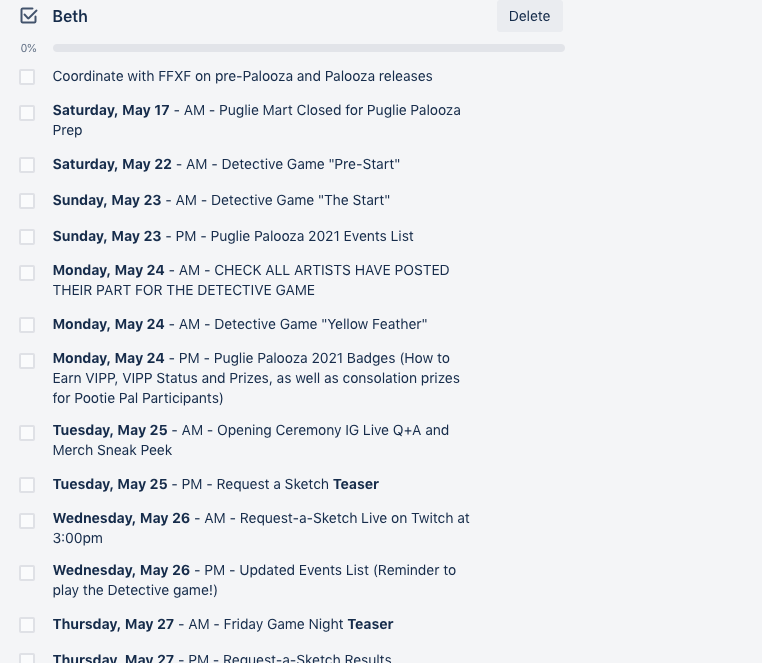 From there, I planned out the posting schedule for social media to pass on to Beth.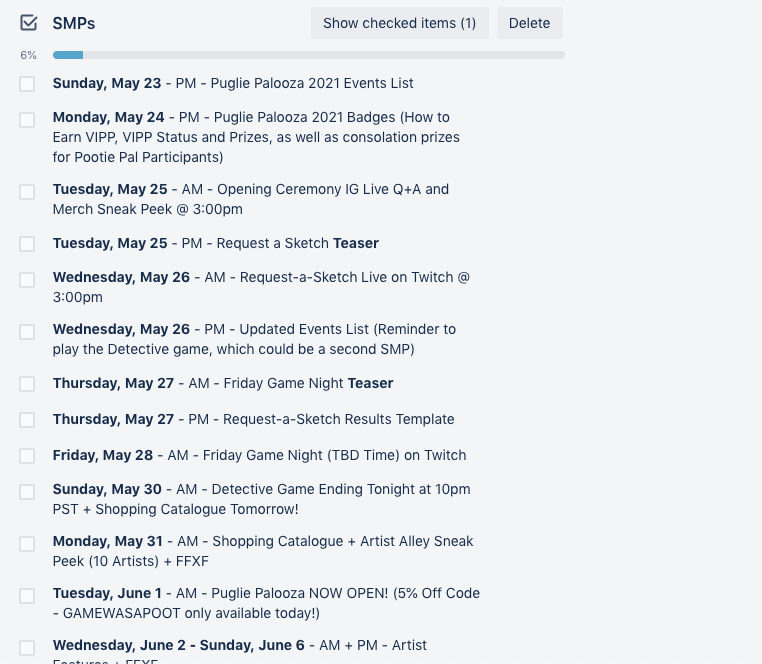 The "SMPs" checklist stands for "Social Media Posts" which are all the posts Zen and I had to create for posting.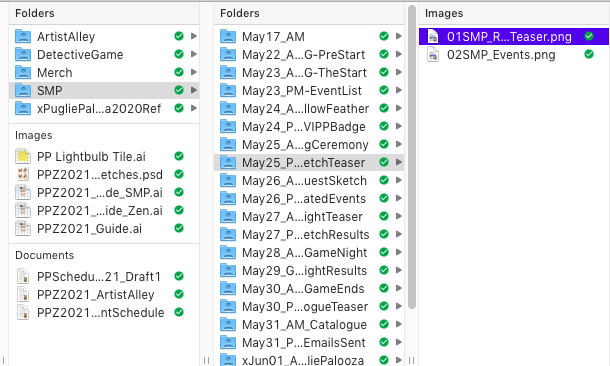 Here are all the posts organized in to folders, respective to the schedule I had planned for Beth's. It may seem a bit overkill, but I did it this way so it was super straightforward to see when to post, and if there were multiple posts, say a carousel or threaded tweet!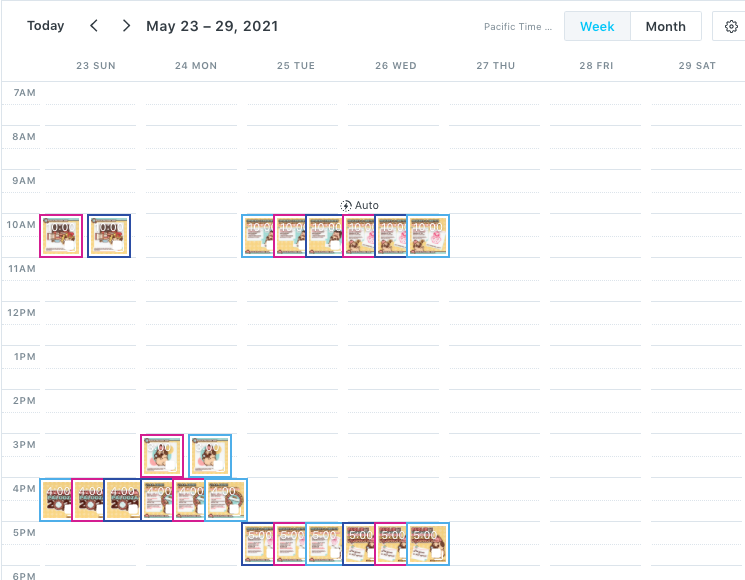 As Zen and I are knocking out each Puglie Palooza post, we pass them off to Beth who had already planned a cute way to format the information for the events, as well as brainstorming captions for each post if it wasn't specifically provided by me already (but even if it was, Beth usually cleans it up a bit better since I tend to ramble aha)!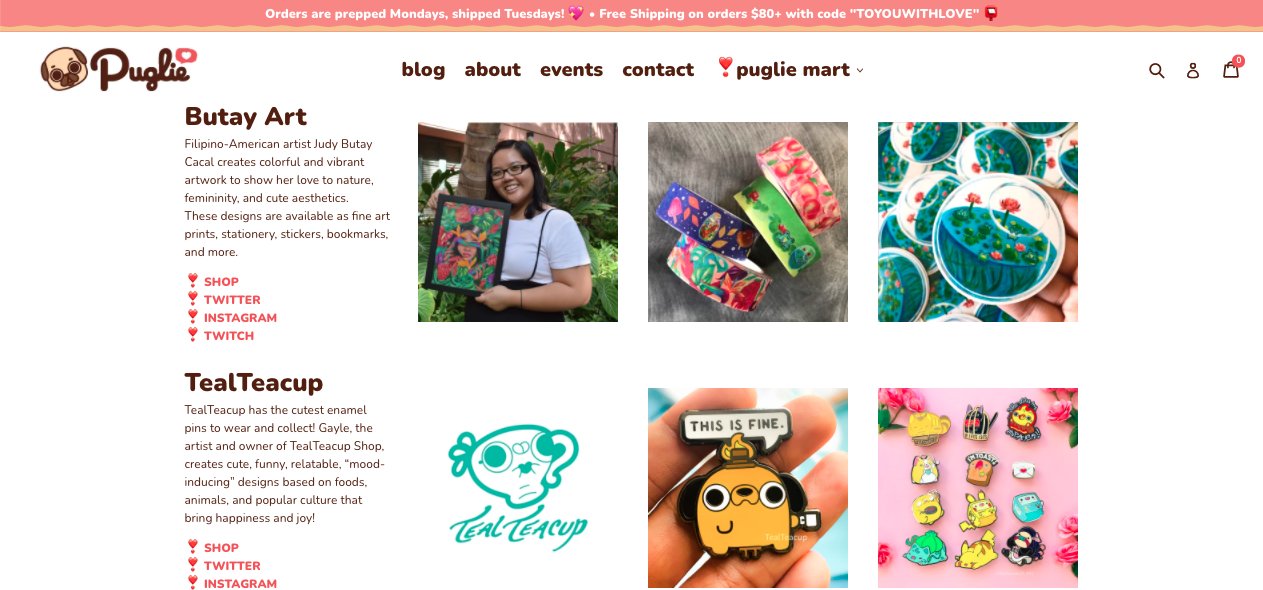 Lastly, outside of updating my own store for new merchandise to launch for Puglie Palooza, there was tha artist alley. This involved me messaging my peers via DMs with an offer of free real estate on my website and social media for the event! My only criteria was that they had an active store, at least during the time of the event. It was truly kind of some of them to run promotions during Puglie Palooza to help cross-promote!
For me, this was my way of helping friends, knowing that my event could possibly drive traffic to them; however, in my pitch to my peers, I was very transparent about what the event was, what the artist alley section looked like, and my hope that they would get more eyes on their work, but no guarantees that they would get sales. With all that on the table, it was absolutely their choice to join or not, making it clear that this is purely if they're interested, and no hard feelings if they're not up for it for any reason!
In conclusion to my fans,
I hope this was a neat insight in to all that was done to launch Puglie Palooza with year! The team and I are truly grateful for all the positive energy and laughter you shared with us before, during, and after the event, especially when you let us know what made you smile! The team and I put a lot of work in to these things, and it truly warms our heart when it pays off through all the joy you all share with us! Thank you again for being a part of Puglie Palooza 2021, and Puglie in general <3
In conclusion to my peers,
If you're a creator yourself with the energy and drive to do this, I say go for it!!!
This experience is an amazing challenge to focus on your brand and what you want it to represent, a great way to celebrate your community of supporters, and optionally, a chance to lift up your fellow creatives!
My general advice when planning something like this is to be very honest with your scope - what events or special things will you be doing, how long will this last, and what is realistically achievable with a good work-life balance.
As a TL;DR to my Detective Game post, I admitted that this game expanded my scope tremendously, more than I expected, and as you can see up here in my initial planning of Puglie Palooza 2021, things like giveaways or merch ideas fell through purely because I was stressed, burnt out, and running out of time! Could offering those things while reducing the scope of work in the Detective Game have made the event better? Probably not by much, but what it would've ABSOLUTELY made better was my mental and emotional health haha!
So sit down and ask yourself the hard questions in terms of your brand, what you want to achieve, what your fans enjoy most, what your goal for this event is (i.e. community building? showcasing your Twitch? new merch? new ideas for your brand?), and start writing down those to-do lists!